Villas for Sale in Istanbul 2023
Table of Contents:
1. Types of Villas in Istanbul
2. The difference between Ready Villas and Under Construction Villas
4. Recommended Real Estate Villas
5. Buying a villa on payment plan
6. Getting a discounts When Buying Property in Cash
7. Steps to Buy a property in Istanbul
8. What to Consider When Buying a Villa in Istanbul?
In the heart of Istanbul, a city that combines tradition and modernity.
you can find luxurious villas that offer a unique blend of luxury and history. If you're looking for a home that combines tranquility and luxury, villas for sale in Istanbul may be the ideal choice.
Buying a villa in Istanbul is a great choice for a home, vacation, or investment.
This article examines Istanbul's villa market, the advantages of these investments, and provides guidance on choosing the perfect villa to fulfill your goals and dreams.
Discover the world of villas in Istanbul and experience the charm of living in this wonderful city.
Types of Villas in Istanbul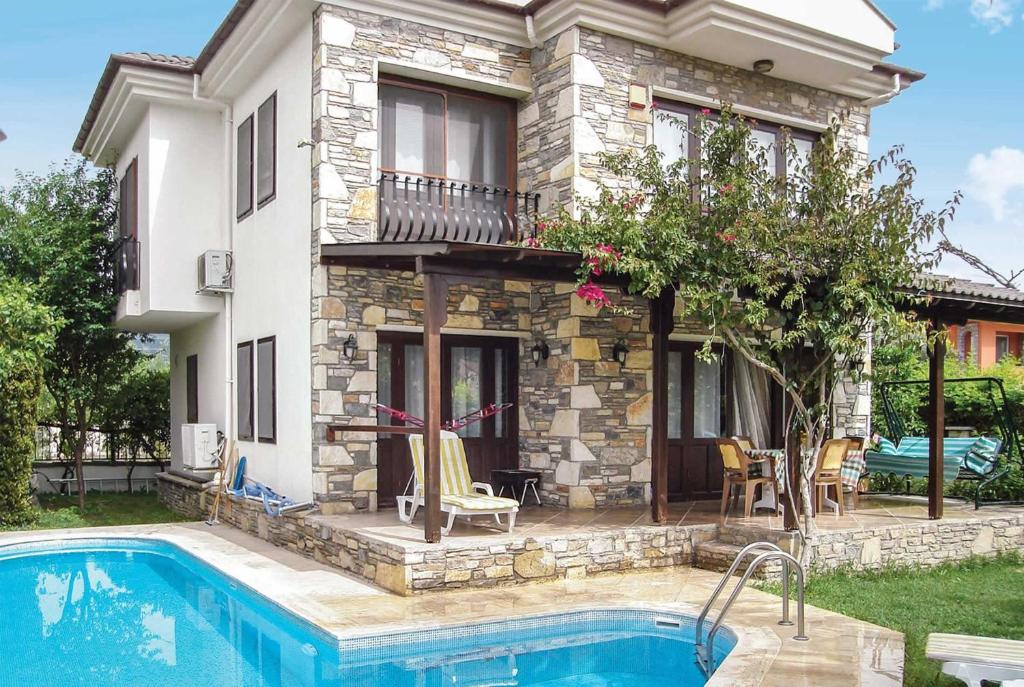 Istanbul is one of the top travel destinations in the world, and there's no difficulty in understanding why. This city brings together diverse cultures, rich history, and charming architecture.
It's renowned for providing exceptional dining experiences. If you're planning to visit Istanbul, it's important to know the Lodging or staying options available.
Here are different types of villas in Istanbul that you can choose from:
Luxury Villas:
If you're looking for a luxurious experience, you'll find many high-end villas in Istanbul. These villas typically come with private pools, beautiful gardens, and dedicated staff. They are the perfect choice if you want to relax and enjoy your vacation. An example of such a project is [click here to view one].
Townhouses (Twin Villas):
These are villas that are often semi-detached, with one or both sides sharing a small garden and parking. An example of such a project is [Project Name].
Duplex Villas:
These are two-story villas and are often semi-detached on one side. They have become more popular in recent years. An example of such a project is [click here to view one].
Triplex Villas:
These are three-story villas and are often semi-detached on one side. They have become more popular in recent years. An example of such a project is [click here to view one].
See also Best Real Estate in Istanbul click here
Difference between Ready Villas and Villas Under Construction in Istanbul
Villas Under Construction:
Buying real estate in Turkey has become easier due to government initiatives and a booming real estate market.
The increasing construction of villas and the rise in real estate projects have made it easier to buy villas under construction in Turkey.
This process has become one of the simplest ways to fulfill future goals and ambitions, whether it's about securing a family home or making a real estate investment.
Although some may see owning villas in Turkey before their construction is finished as complex, it can, in fact, simplify the process and expedite the attainment of Turkish citizenship.
An advantage of purchasing property under construction in Turkey is that it is often more affordable at the buying stage compared to completed properties.
Nonetheless, these investments tend to yield higher returns in the long run due to the ongoing rise in property values in Turkey and the increasing attraction for foreign investors.
When buying a villa under construction in Turkey, you can take advantage of convenient and long-term payment options.
Construction companies may also provide discounts and free incentives to bolster the investment process within the project and attract more investors or individuals interested in purchasing villas under construction in Turkey.
Ready Villas
Ready real estate in Turkey represents an attractive option for investors and those looking for immediate housing. The Turkish real estate market provides residential villas that cater to diverse needs and excel in terms of construction quality, services, and finishes.
Turkey offers a blend of advantages, including its strategic location between continents, natural beauty, cultural diversity, and government incentives to encourage foreign investors and buyers.
Ready villas for sale in Turkey have many advantages:
1. They provide investment protection and reduce risks.
2. Buyers can obtain ownership certificates and the villa's key immediately after purchase.
3. Buyers can inspect the property before purchase and ensure it meets their needs.
4. They can be readily rented out or used for financial investments.
5. They include all the necessary services and infrastructure for the project.
6. Direct selling options are available for investors.
In summary, completed properties in Turkey offer convenience for both investment and living, presenting various opportunities for buyers to profit from residential and investment real estate.
---
We have dedicated a full article that specifies the difference between the two types. Click here to read the full article
---
Best Places to Buy Villas in Istanbul
If you're looking to buy a villa in Turkey, here are some exceptional areas to consider:
1. Alanya:
Alanya is one of the best areas to buy villas in Turkey. It boasts beautiful beaches and a lively nightlife. You can find luxurious sea-view villas with fantastic amenities.
2. Fethiye:
Fethiye is located on the Mediterranean coast and offers a peaceful and beautiful environment. Here, you can buy reasonably priced villas with stunning views of forests and mountains.
3. Istanbul:
Istanbul is the economic and cultural capital of Turkey, offering a wide range of villas. You can find sea-view villas in various parts of the city.
4. Yalova Region:
The Yalova region, situated along the Marmara Sea coast, presents exceptional buying opportunities. Here, you can find luxurious villas at reasonable prices surrounded by nature.
5. Kocaeli:
Kocaeli has a rich cultural history and offers diverse real estate options, including villas and apartments. It is also an important industrial center in Turkey.
"Villa Prices in Istanbul"
Here is the information about several real estate properties in Istanbul:
- Property Type: Ready-to-Move Villas with Sea Views
- Starting From: $186,727,198
- Area: Istanbul - Beylikduzu
- Property Type: Under Construction Investment Villas
- Starting From: $87,892,386
- Area: Istanbul - Bahcesehir
- Property Type: Under Construction Villas with Luxurious Finishes, Garden, and Private Swimming Pool
- Starting From: $104,129,534
- Area: Istanbul - Beylikduzu
- Property Type: Luxury Villas with Panoramic Sea Views
- Starting From: $125,661,403
- Area: Istanbul - Beylikduzu
- Property Type: Under Construction Investment Villas
- Starting From: $94,246,053
- Area: Istanbul - Bahcesehir
- Property Type: Luxury Villas under Construction with Beautiful Sea Views
- Starting From: $77,655,923
- Area: Istanbul - Beylikduzu
- Property Type: Luxury Villas with Sea Views
- Starting From: $88,245,368
- Area: Istanbul - Beylikduzu
- Property Type: Villas with Sea Views
- Starting From: $167,666,198
- Area: Istanbul - Beylikduzu
- Property Type: Luxury Villas with Sea Views
- Starting From: $79,420,831
- Area: Istanbul - Beylikduzu
These properties are found in different areas within Istanbul, offering a variety of options for those seeking to invest in or purchase a villa in the city.
The starting prices vary depending on the property type and location.
"Also, read about some of the government-backed projects in Turkey."
Can a villa be purchased in installments in Istanbul?
Purchasing a villa through an installment plan in Turkey involves an initial payment for the villa, with the remaining payments spread over an agreed-upon period, as determined by the seller (company) and the buyer.
This method allows individuals to acquire a villa without the need to pay the full amount upfront. Installments help distribute the cost of the villa over a suitable timeframe for the individual.
There are various ways to purchase villas with installments in Turkey, and some options include:
1. Buying an under-construction villa with installment payments: You have the option to buy a villa that is currently being built and pay for it in installments throughout the construction phase. This provides the buyer an opportunity to get a relatively lower price and pay the amount in stages. The initial payment is usually around 35% to 50%, with the remainder paid in monthly installments.
2. Buying a finished villa with installment payments: Apart from off plan villas, you can also come across opportunities to purchase completed villas with installment plans. In this case, a higher initial down payment is usually necessary, with the rest of the balance being paid in monthly installments.
The buyer should thoroughly examine the agreement's terms and conditions and be fully informed about all the expenses linked to the installment plan, which may encompass interest on the loan (if applicable) and any extra fees.
It's essential to ensure that they have the financial capacity to bear long-term financial commitments.
Benefits of buying a villa in cash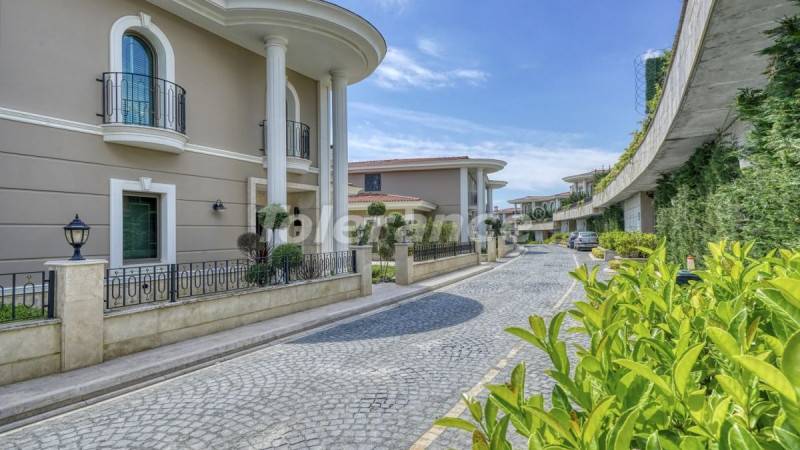 Purchasing property with cash in Turkey has several material, legal, and preferential advantages, including:
1. Great Discounts: Paying for property in cash frequently results in significant discounts, which can range from 10% to 30% or even more off the total property value. These discounts can help save a significant amount of money.
2. Speedy Legal Procedures: When paying in cash, you can smoothly and quickly obtain the property title deed. You can visit the Land Registry Directorate, complete the property survey, and start the property transfer process right away, without needing to wait for the deed to be issued.
3. Avoiding Bank Transfer Costs: When purchasing property with cash, you can skip the expenses linked to international money transfers, such as bank transfer fees. This can save you additional costs.
4. Ownership Assurance: A cash purchase allows for a swift confirmation of property ownership and your legal claim to the property. This reduces risks and provides security for your real estate investment.
5. Immediate Possession or Investment: With a cash purchase, you can promptly utilize or invest in the property without the need to wait for financing or installment payments to be finalized.
These are some of the main benefits of purchasing villas with cash in Turkey, which is a favored choice for individuals who can afford to pay the entire amount upfront and want to enjoy these advantages.
Steps to purchase property in Istanbul:
When purchasing property in Turkey, there are ten important tips to consider:
1. Define your goals for buying property in Turkey.
2. Choose a real estate agent or company in Turkey.
3. Visit Turkey.
4. Go on property tours in Turkey.
5. Negotiate property prices in Turkey.
6. Freeze the property price and provide a down payment.
7. Prepare the necessary documents for buying property in Turkey.
8. Complete property ownership procedures in Turkey.
9. Receive the property title deed (TAPU) in Turkey.
10. Furnish the property and open various bills.
Important Tips for Buying Real Estate in Turkey
When buying real estate in Turkey, here are ten important tips to consider:
1. Choose a strategic location for the property.
2. Determine the best time for your purchase.
3. Obtain a property valuation report.
4. Consider available amenities and services.
5. Choose a reputable construction company.
6. Assess facilities and lifestyle options.
7. Examine the local population demographics.
8. Consider the property's view or scenery.
9. Decide on the type of property allocation.
10. Seek advice from a real estate expert.
---
For articles related to Qatari investment in Turkey, click here...
For articles related to the future of real estate investment in Turkey in 2023, click here...
---
Keywords for related property searches:
---
---
We have dedicated an entire article to real estate investment and how to achieve substantial financial returns. You can click here to learn more.
Contact us now to embark on your best investment experience ever with Damas Group. We provide comprehensive real estate consultations, assist you in finding the most suitable properties, and guide you through property tours. Rest assured, we offer the best investment opportunities.
With Damas Group Real Estate, we deliver the equation of the highest quality and the most affordable prices. We assist you in real estate marketing and development in Turkey. We handle all property purchase procedures from A to Z and offer property management and after-sales services. We also help clients apply for Turkish citizenship.
Contact us at Damas Group Real Estate and request information about the best available deals and options, whether in Yalova or elsewhere. Don't hesitate to start your real estate investment journey in the Turkish real estate sector immediately. The prices are attractive, the choices are vast, and the future is promising.
---
FAQ
Villa prices in Istanbul vary significantly depending on the location, size, and design. In general, you can find villas starting from around $150,000 and going up to millions of dollars for luxurious villas.
Yes, foreign buyers can obtain mortgage financing from Turkish banks to purchase villas in Istanbul. The loan eligibility depends on the buyer's identity and financial situation.
Popular areas to buy villas include Besiktas, Buyukcekmece, Sariyer, Fethiye, and Beylikduzu. These areas vary in terms of environment, prices and amenities.
Yes, foreigners can obtain Turkish citizenship by purchasing a villa of a certain value. The investment amount must be in accordance with current recognized laws.
Services and facilities depend on the project and residential complex. Villas can be found offering facilities such as private pools, gardens, 24-hour security, gyms and more services.
You can buy a villa in Istanbul without a real estate agent, but using a local real estate agent can help simplify the process and increase your understanding of the real estate market and legal matters.
Yes, there are laws and regulations regulating real estate ownership by foreigners in Türkiye. You should check current laws and financial requirements before purchasing.
Yes, you can rent the villa either to live or to gain investment returns if you are not using it permanently.
Yes, you can negotiate the price when purchasing a villa, and there is usually some flexibility on prices, especially if you pay in cash.
The steps include searching for the appropriate villa, negotiating the price, conducting the necessary checks, completing the papers and signing the contract. It is important that you work with an attorney or real estate agent to ensure the transaction is executed correctly.