City of Bursa full details 2023
Table of Contents:
Villas in Bursa
Information about the City of Bursa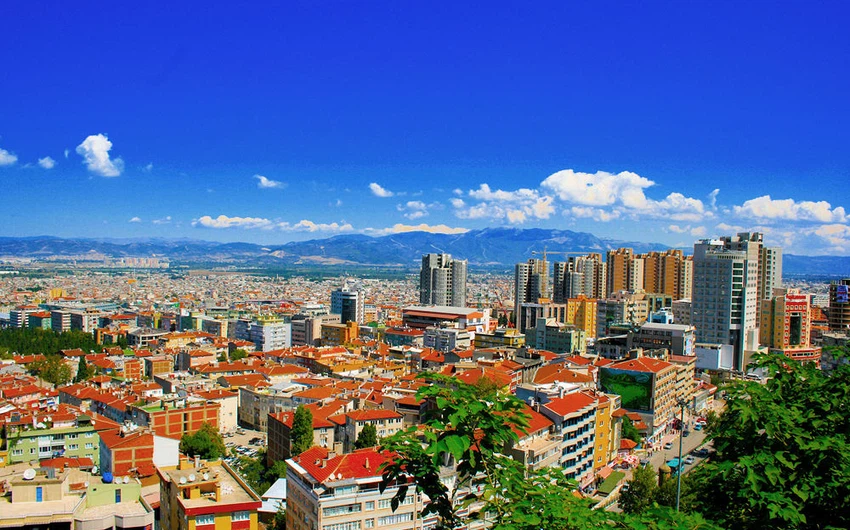 The city of Bursa is located in northwest Turkey and is one of the largest cities in the country in terms of population. Bursa is characterized by The city features mountainous and plain regions, showcasing captivating natural landscapes. A river winds through the mountains, adorned with ponds and streams., ultimately culminating in the Nilufer Lake. Bursa is sometimes referred to as "Green Bursa" due to its beauty and the abundance of orchards, forests, and agricultural fields in its areas.
The history of Bursa dates back to ancient times, believed to be founded by its namesake, Prusias, the King of Bithynia, in the 6th century BCE. Established as a city by Sultan Orhan Ghazi in 1326 CE, Bursa served as the first capital of the Ottoman Empire until 1345 CE.
Bursa is a city with a rich history, witnessing the passage of numerous empires and civilizations throughout the ages. Shaped by the Romans and Byzantines who played a role in its growth, along with the influence of the Seljuks, the city retained its significance until the Ottomans arrived in the 14th century.
Thus, Bursa in Turkey stands as a city with a diverse and rich history, connected to a splendid heritage across different eras.
Population in Bursa
It is considered the first capital of the Ottoman Empire and ranks fourth in Turkey in terms of population. Bursa is the second-largest city on the Sea of Marmara coast after Istanbul. It is economically and industrially advanced, adorned with many historical landmarks, especially those dating back to the Ottoman era, in addition to its breathtaking natural beauty. Covering an area of approximately 11,043 square kilometers, its population is around 2,605,500.
Tourist Attractions in Bursa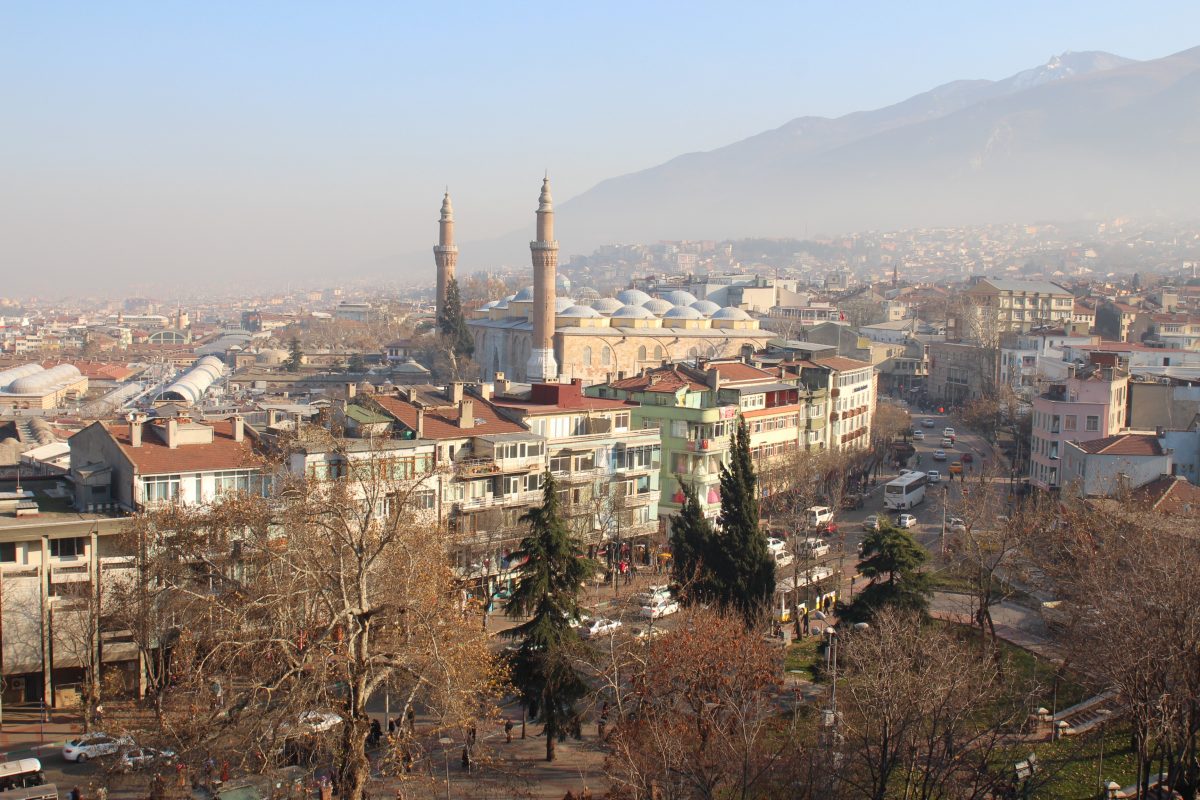 Bursa draws a large number of tourists each year, thanks to its proximity to Istanbul, which is Turkey's leading tourist destination. Here are some of the best tourist attractions in Bursa:
1. Mount Uludağ: A natural mountain located in Bursa, Turkey. A famous tourist attraction for nature lovers and adventure enthusiasts.
2. Saitabat Waterfalls: situated in the Bilecik Province of Turkey, are regarded as one of the most beautiful waterfalls in the country.
3. Eskikaraağaç Village: nestled in the Marmara region of Turkey, is renowned for its picturesque natural scenery and various sports activities..
4. Ancient Eternal Tree: A unique natural landmark, known for its long life and extensive history in Turkey.
5. Sansarak's Hidden Paradise: is a delightful natural area that draws visitors with its picturesque views and serene atmosphere.
6. Aynalı Cave: A natural cave located in Turkey, known for its beautiful and unique formation.
7. Mudanya Monastery: An important historical monastery in Turkey believed to be built in the 14th century.
8. Green Mosque: A splendid historical mosque in Bursa, Turkey, renowned for its beautiful green dome.
9. Silk Market: A traditional market in Turkey famous for selling silk products.
10. Halkapınar Candy Factory: A famous place for producing traditional sweets in Turkey.
11. Saidabad Waterfall: A beautiful natural waterfall located in the Bursa region.
12. Kurşunlu Waterfall: A beautiful waterfall area near Bursa, Turkey.
13. Great Waterfall: One of the largest waterfalls in Turkey and a natural tourism landmark.
14. Oylat Waterfall: A beautiful waterfall located in a rural area in Turkey.
15. Wapati Lake: A wonderful lake in Turkey, considered an ideal tourist destination.
16. Lake Gölcük: A charming lake known for its stunning views and tranquility.
17. Lake İznik: A large lake in Turkey that attracts visitors with its natural beauty.
18. Lake Dayıgöl: A lake located in the Bursa region, considered one of the beautiful lakes in Turkey.
19. The Molla Candy Factory: is a historical candy facility that provides a glimpse into the traditional production of Turkish sweets.
20. Koza Han: A historical silk market in Bursa, showcasing the city's rich history.
21. Bursa City Museum: A museum that displays artifacts and exhibits related to the history and culture of Bursa.
22. The Ataturk Museum: housed in a historic building in Bursa, is dedicated to Mustafa Kemal Ataturk, the founder of modern Turkey..
Bursa's attractions, combining natural beauty with historical and cultural richness, make it a captivating destination for tourists..
Apartments in Bursa
Bursa is considered one of the Turkish cities with properties at moderate and affordable prices. It stands out with infrastructure that surpasses many other cities in Turkey. If you compare the price of a modern apartment in a central location in Bursa to a similar one in Istanbul, you'll often find that the price difference is usually 30% to 50% in favor of Bursa.
Apartment Listings:
Duplex Apartments in Gemlik, Bursa 1

Rooms: 3+1
Bathrooms: 2
Basic Price (TL): 4,400,000
Basic Price (USD): 160,000

Long-Term Investment Opportunity Apartments in Bursa 1

Rooms: 3+1
Bathrooms: 2, 3
Basic Price (TL): 4,150,000
Basic Price (USD): 151,000

Sea-View Duplex Apartment in Gemlik, Bursa 1

Rooms: 5+1
Bathrooms: 2
Basic Price (TL): 326,000
Basic Price (USD): 11,900

Bright Apartments Close to the Beach in Gemlik, Bursa 1

Rooms: 3+1
Bathrooms: 2
Basic Price (TL): 4,150,000
Basic Price (USD): 151,000

Luxurious Apartments with a Shared Pool in Gemlik, Bursa 1

Rooms: 3+1
Bathrooms: 2
Basic Price (TL): 4,150,000
Basic Price (USD): 151,000
Also, check out the best properties in Istanbul.
Commercial Shops in Bursa
Bursa is one of the largest cities in Turkey and hosts numerous commercial shops offering a diverse range of products and services. These shops are situated in different parts of the city, including the city center, residential neighborhoods, shopping centers, and traditional markets. Here are some famous places and areas with commercial shops in Bursa:
1. City Center (Bursa Merkez):
Here, you'll find a variety of commercial shops, including both large and small stores, cafes, and restaurants.
2. Shopping Malls:
Bursa is home to several large shopping centers, like "Bursa Baran Bazaar," "Korupark Bazaar," and "Ziçaol Bazaar," where you can discover various commercial shops and international brands.
3. Historical Bazaars:
Bursa is renowned for its historical traditional markets such as "Sultan Han Bazaar" and "Koza Han Bazaar," where you can purchase handmade products and traditional goods.
4. Modern Commercial Areas:
In the modern parts of the city, you'll find commercial shops offering a variety of items including clothing, accessories, electronics, household items, and more.
5. Local Markets:
Popular markets are held on specific days of the week in various neighborhoods of Bursa, offering opportunities to purchase fresh food, vegetables, fruits, and local products.
Here is a list of the top 10 shopping centers in Bursa:
- Korupark Shopping Center
- Porta Nova Shopping Center
- Artvindeik Shopping Center
- Korubazaar Shopping Center
- Bursa City Mall
- Turk Telekom Mall
- Marina Viva Shopping Center
- Nour Park Mall
- BursaBlock Mall
- Merint Shopping Center
Read Also: Some Projects Supported by the Turkish Government
---
Read more about real estate investment - Comprehensive Guide for Investors 2023. Click here...
---
Bursa and Earthquakes
When talking about earthquakes in the Turkish city of Bursa, investors can be reassured that the city has implemented strong investment and engineering measures to address this type of natural disaster.
Bursa's extensive history reveals past earthquakes, but due to advancements in architectural engineering and modern technology, buildings in Bursa are now equipped with the latest technologies to effectively withstand the effects of earthquakes.
Bursa is located in a vital geological area and has advanced systems for early earthquake detection and mitigation. Bursa is known for its diverse investment opportunities, ranging from real estate to business and industry. Due to its attractiveness as a hub for business, industry, and trade, investors can benefit from increased opportunities and stability in their economic performance.
Investors seeking to capitalize on the varied investment opportunities in Bursa and enhance their prospects can consult with investment advisors and real estate experts to make informed choices and achieve lasting investment success. Bursa blends natural beauty with economic development, making it a unique destination for investors seeking stability and success in real estate and business.
In Conclusion
The city of Bursa in Turkey is an exciting and promising investment destination for investors. It combines breathtaking natural beauty with a rich culture, making it an ideal place for investing in real estate and business.
Bursa distinguishes itself with its strategic location and advanced infrastructure, providing investors with access to various markets and many business opportunities. Whether you're searching for a house, an office to launch your business, or a commercial shop to expand your business activities, Bursa provides a diverse range of options.
Moreover, Bursa boasts an active and diverse real estate market, presenting excellent opportunities to leverage market fluctuations and enhance your investments. Bursa also allows you to enjoy diverse lifestyles and multiple facilities that cater to the needs of all family members.
If you're seeking an investment opportunity in a flourishing city that seamlessly combines modernity with tradition, Bursa is the ideal destination for you. Start your investment journey in Bursa today and benefit from its economic and cultural potentials.
We've dedicated a complete topic to real estate investment and how to achieve substantial financial returns. Click here to learn more
Experience your best investment journey with Damas Group!
At Damas Group, we offer comprehensive real estate consultations, assisting you in finding the most suitable and lucrative properties. Our dedicated advisors guide you through property viewings, ensuring you witness them firsthand. Don't worry; in our group, we present you with the finest investment opportunities.
With Damas Group, we balance the equation for you – the best quality at the most competitive prices. We support you in real estate marketing and development in Turkey. We handle every step of the property purchase process from start to finish, and we can also manage properties and provide post-sale services. Moreover, we assist clients in applying for Turkish citizenship.
Damas Real Estate Group
Contact us at Damas Real Estate Group to explore the best offers and options available, whether in Yalova or beyond. Feel free to kickstart your real estate investment journey in the Turkish property sector right away. The prices are favorable, the offers are diverse, and the future is promising.
---
FAQ
Investing in Bursa is considered a good opportunity due to the rapid economic growth in the city and supportive government initiatives for investment.
Bursa offers opportunities for investment in a diverse range of sectors, including real estate, industry, technology, tourism, and agriculture.
Bursa provides a range of tax incentives for investors, including reduced income taxes and tax exemptions for certain industries.
In addition to opportunities, there can be challenges such as competition, changes in economic policies, and logistical challenges.
There are several government agencies and institutions that provide support for foreign investors in Bursa, such as the Chamber of Commerce and Industry and investment offices.
Yes, foreign investors can own properties in Bursa under Turkish laws.