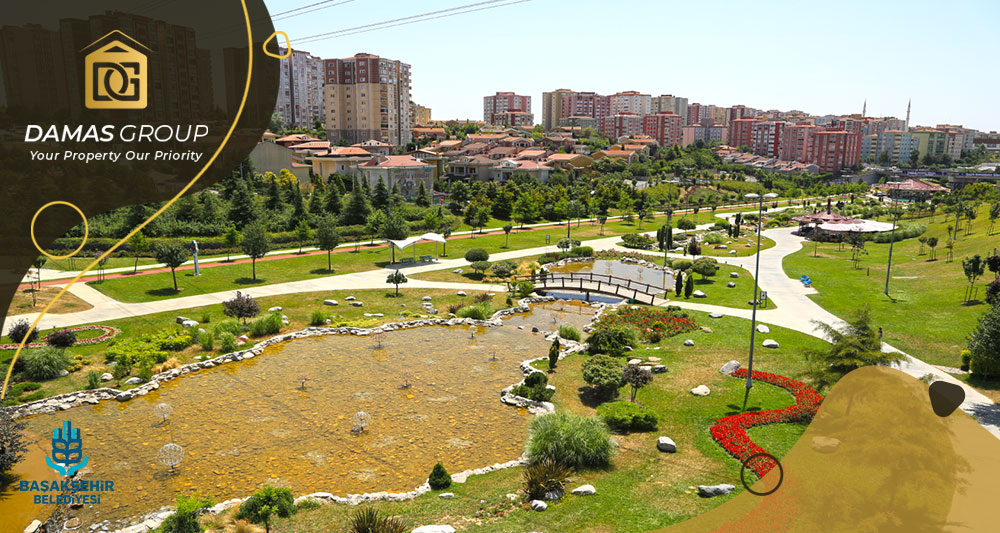 Başakşehir is one of the most remarkable districts in the Turkish city of Istanbul. Başakşehir means the wheat city, and it was named like this because of the cultivation of wheat that is widely spread there. Moreover, Başakşehir is one of the newly developed urban areas, and the population there is about 350 thousand, according to statistics issued during 2014. The total area of Başakşehir is about ten thousand square kilometers.
There are plenty of apartments for sale in Başakşehir, Turkey, and these apartments are of many different areas according to the needs of the buyer. Turkey has become a destination for tourism in general; some tourists are here to manage their business and others just want to take a beautiful tours and relax during a certain period of the year. Furthermore, Turkey has become a world-class center for therapeutic tourism. It has many centers and hospitals through which the most difficult operations can be performed by some of the best doctors and experts in the world. Recently, Başakşehir has become the focus of attention of many individuals from inside Turkey or abroad and luckily, there are many apartments for sale in Başakşehir to provide an excellent residence in Turkey.
The Outstanding Geographical Location of Başakşehir:
Başakşehir is located in a prime location in the European side of Istanbul. It is bordered to the North West by Şamlar Lake, which is one of the fresh lakes used to supply Istanbul city with water. To the South, Başakşehir is also bordered by The Marmara Sea. Some of the most well-known places surrounding Başakşehir are Bağcılar, Ayub, Esenler, Esenyurt, and Kuçukçekmece.
The Most Considerable Advantages of Başakşehir:
Quiet life:

Başakşehir is famous of being a quiet area far from the hustle and bustle that many other areas suffer from. It is indeed a great residence for the lovers of tranquility, while the prices of apartments there are very exceptional compared with other apartments in Turkey.

Official institutions:

It is fair to say that there are branches of all official institutions in the region of Başakşehir. And the existence of such institutions in the area makes it easier for citizens to carry out all official procedures they need to carry out, including residence procedures or passport issues. As well as utilities that relate to basic facilities, which residents need in their daily lives, such as electricity, water, and telephones making life easier.

Entertainment places:

The most popular entertainment area in Başakşehir is the Happiness Palace, which belongs to the Başakşehir municipality itself, adding to that: the Sports Park, Water Valley Park, and the Football Skills Teaching Center. Başakşehir is considered as one of the districts where the municipality provides much support and buying an apartment in this district, allows the owner to get most of the leisure services free of charge.

Proximity to international airports:

Başakşehir is truly a distinct area, close to Istanbul's third airport, as well as Ataturk International Airport.

Easy transportation and navigating:

The district of ​​ Başakşehir has an extended network of roads linking it with the rest of the Turkish cities and governorates. The common forms of public transport of the subway and public cars are all available and certainly not the only forms possible, and that enable citizens an easy access the entire area. Indeed, the owner of apartments in the area of Başakşehir, will never find it difficult to move, even when they do not have a private car.

Sports venues:

There are many sports clubs in the area that thing that sports fans would highly admire. In Başakşehir, Ataturk Stadium is stationed, and it is, for those who do not know, the host of sports events related to the local league and international matches, as well as athletics games including swimming pools used in local and international competitions.

Green areas:

Green areas are spread throughout the district of Başakşehir in a great way. The environment is very suitable for those recovering after treatment. The Green Valley is one of the most famous areas there, in addition to a large park planned to be open within a year to serve the citizens.

Universities and schools:

Başakşehir contains many distinct universities that provide services in Turkish, Arabic and English languages, and at the top of these universities come Bahçeşehir University, Başakşehir Academy, etc. There are also hundreds of dignified schools, and at the top of them come Afak School and Almaaref International School. Moreover, there are some of those universities and schools are teaching their curricula in Arabic in full.

Therapeutic services:

There are many medical centers and hospitals in Başakşehir, where there are professors and experts in all medical branches. Besides, an integrated medical city is under construction to provide treatment services for the residents of the region.
The prices of apartments in Başakşehir are very special compared to the other cities and provinces, and this was one of the incentives that attracted a lot of people to buy an apartment in Başakşehir. All this was due to real estate investments that increased in this vital region. Thus the prices decreased because of the market competition among the companies investing in the real estate market, which led to decrease the prices of apartments in Başakşehir, which is in favor of buyers at the moment.