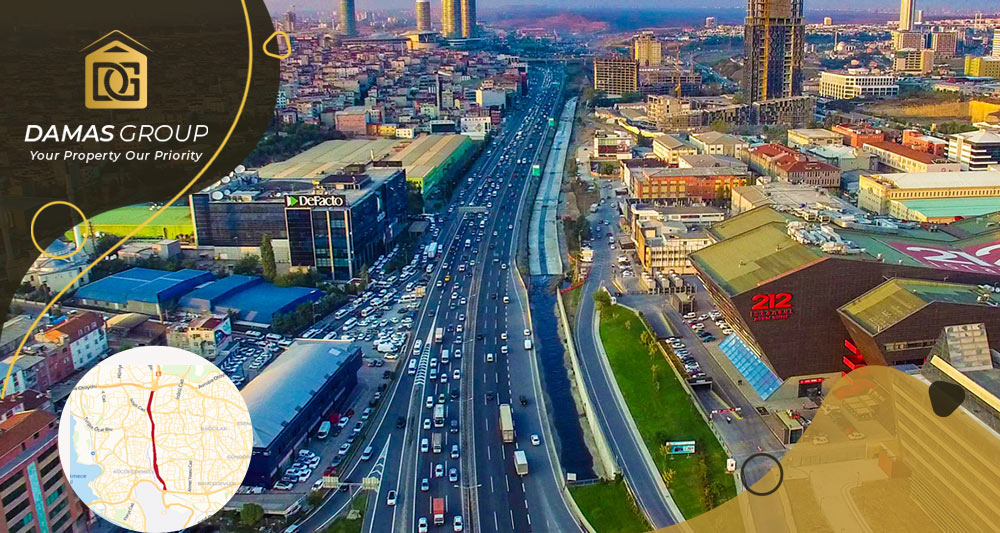 Basin Ekspres Road of Bağcılar is one of the most prominent and vital areas in the European side of Istanbul, especially when it comes to the real estate market in Istanbul where Istanbul Municipality classifies the area of Basin Ekspres as the prestigious service area and the central business district in relation to the strategic plan of the city. The Municipality exerted efforts to perfectly prepare this area for invest in Turkey Istanbul. It is therefore expected that this area will be the area that attracts the most prestigious offices in the European side.
Basin Ekspres Road is the Pull Factor for Investment in Istanbul :
Experts believe real estate Turkey that the Basin Ekspres Road is a lucrative investment area due to raising the efficiency of roads in the last years which in turn increased its strategic importance. Because Basin Ekspres Road is a dynamic region of and a vital meeting point in business, the demand on buying new offices and apartments has substantially increased.
Reasons that Make Basin Ekspres Road is the World's Focus Attention :
This road is an intersection between the international road E-5 and TEM and the coast road. It is also connected to the north-central road of Marmara, in addition to its metro lines, railways and sea transport lines which obviously make the road one of the easiest routes to reach Istanbul.

It has many extra-large projects, sophisticated residential compounds, dozens of five-star hotels, top class A offices, and numerous shopping malls.

The desired location for companies that prefer to stay close to Ataturk International Airport and Exhibition Center where it is only 10 minutes away from Ataturk Airport, let alone its connection to the route leading to Istanbul's third airport that is currently under construction.It contains many large areas of investment.
Main Residential Compounds in Basin Ekspres :
Some residential compounds in Basin Ekspres are distinctive due to their contemporary design which allow the sunlight to enter for the longest possible duration at the daytime to apartments. These compounds do not include apartments that are open to the north. In this context, we must mention the compounds of Basin Ekspres Road which Damas Group offers to its customers at prices ranging from $ 61,000 to $ 163,000:
DAMAS 163 ، DAMAS 133، DAMAS 161 ، DAMAS 135 ، DAMAS 162 ، DAMAS 136 ،
All previously-mentioned compounds are equipped with services that provide comfort and safety for residents including shopping centers, playgrounds, beautiful indoor gardens, swimming pools, restaurants, cafes, earthquake-proof buildings, parking lots and many other advantages that encourage the purchase of apartments and make these compounds the best real estate you ever dream to have in istanbul real estate.
Hotel Apartments Principle:
For the sake of ensuring guaranteed income, some construction companies in the area of Basin Ekspres have offered a modern and comfortable style for people who tend to transfer and travel all the time. Indeed, demands on investment in this sector have increased due to the desire of investors.
What Distinguishes the Compounds of Basin Ekspres?
Now investors are allowed to include their houses within the system of hotel apartments where this feature enables them to use their houses as hotel rooms within the compound which in turn provides additional income to investors based on the knowledge of the company responsible for running and managing the hotels and reservation procedures. By means of this, the residential apartment becomes an investment tool with high potentials which is available for investors who wish to do so.